The all-in-one Shopify design and coding course for designers.
Join Today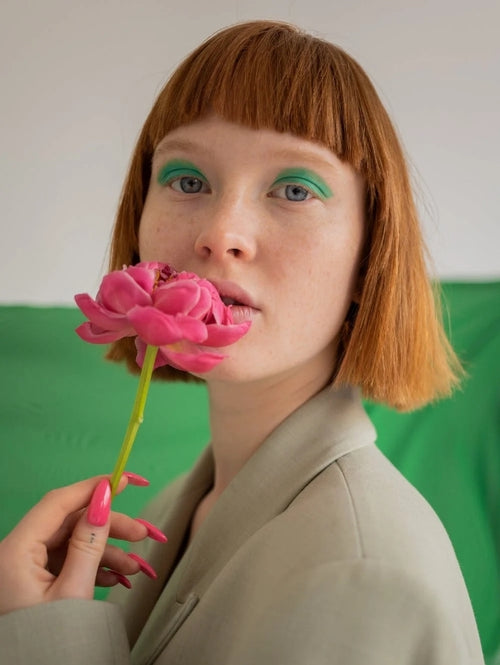 Become a SHOPIFY EXPERT charging $10k+ without feeling overstretched
Design Freedom on Shopify is a creative course for designers who want to confidently build stores on Shopify that break out of cookie cutter templates.
Fill out the form below, and get the free training
straight to your inbox.
The only

Shopify course

you need, from two experts
Chloe in e-commerce design and Hana in Shopify development will teach you everything you need to know so you can become an expert too.

Without any of those embarrassing client mistakes.
No other Shopify course teaches both
design AND development so in depth.
Are You...
undercharging and struggling with scope creep, making projects stressful?
wracked with nerves as you're hoping the client won't ask for something you don't know how to do?
stabbing in the dark spending hours guessing how to code something that should be simple?
looking at theme code like it's a foreign language and scared to mess it up?
used to designing for service-based websites but aren't sure about best practices for e-commerce to help clients make sales?
not attracting high value clients but scared to charge more because then your client will expect more from you?
We can fast-track you to
becoming an expert in 3 steps

Profitable Client Process
Scope for profit, charge a premium for your expertise and have a smooth client experience every time.

Design for Conversion
Choose the right theme for the project. Turn browsers into buyers and learn the essential skills of UX for e-commerce. Every design decision should have a reason or data behind it.

Confident Coding
Learn how to customize any theme without limits. Liquid doesn't have to be scary! Understand Shopify's code and bring any designs to life by building your own sections.
Fast track your way to
becoming a Shopify expert
Unlimited Access to:
✨ All 8 modules of the course curriculum
✨ Client process and email templates
✨ Code Customization library & code snippets
✨ Our bestselling Shopify Store Launch Kit
✨ Briefs for portfolio pieces

12 months Access to:
✨ Support on our private Discord community
✨ 30% off Luna sections (for our unlimited license)
✨ Course curriculum and resource updates
This course is self-paced and requires a commitment of time, attention and effort in order to see results. While instructors will provide support, students are ultimately responsible for their own results.

You will have lifetime access to course videos and resources, however, course updates and discounted templates will be available to you for twelve months only. All course lessons, resources, code snippets and techniques learned from this course may only be used for client work, and cannot be shared, sold or repurposed anywhere.
Hear it from
our students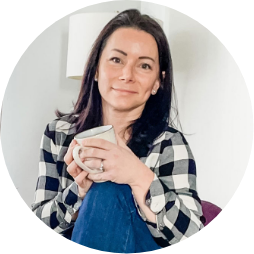 KATE
KATESECONDO.COM
"This course was the best investment I made in my professional learning last year. The curriculum is so well thought out. Hana and Chloe are so generous with their knowledge, and the lessons are easy to understand. You can even put your new knowledge into practice with the student projects, and get feedback in the community. They truly thought of everything, all learning styles are supported, and there's a ton of support! Since taking the course I've picked up a very lucrative retainer client who sees me as a Shopify expert. I would highly recommend this course to any designer who is ready to uplevel their Shopify knowledge."
Kim
Designforgood.club
"I took Chloe and Hana's course because the last time I did a shopify project I felt stuck and limited to the theme. With their course it opened my eyes up to how I could produce e-commerce stores that would actually match the design vision I had in mind. They share their own tried and tested through experience methodology of working with clients to design and build their dream shopify store. Can't wait to wow some clients with what I've learnt through the course. 💕🙌"
Was so soo useful! Love how we now have a tried and tested process we can apply to our own client projects.
I love that the videos contain troubleshooting when needed, instead of being a "perfect" example. I like seeing what you do when a bit of code doesn't behave the way you were expecting. I learned so much from those parts! Thank you
This module actually included way more than I was expecting!
It is really priceless to watch Chloe go through everything basically live and talk us through each part (and her thinking). I absolutely love it and it's the best way to learn. Thank you!
Teaching code is not an easy task! Thank you for breaking down all pieces of informations with several examples and ressources.
You did an incredible job of presenting this info and making it easy to understand. The way you explained everything was really simple and so easy to understand.
It's so important to know more than just how to do the design/coding part - the project management and process side of things is something I wasn't too familiar with (and makes me anxious) but this was so helpful!
I really love and appreciate the way you share everything so candidly with us! Thank you for allowing us a peek into your success & your process.
This is so value packed and I have learned so much already. I am so glad I am a part of this course! Can't wait for the next module. Thank you both!!!
I am pretty familiar with themes, etc so a lot of it was a good review for me and I also learned some new nuggets of info. This module would be a gold mine for someone new to Shopify. Super helpful and generous. thank you!
I didn't realise how many amazing templates we would be given. It's SO helpful. Thank you!
The CURRICULUM
01
SELL, SCOPE, STRATEGIZE
Chloe will walk you through the client process, so you can feel like an expert on that first sales call. We'll cover all aspects: from pricing, scoping and onboarding, to getting all the info you need on the discovery call so your projects run smoothly and profitably.
Skills you'll learn...
✓ Sales call techniques
✓ Scope projects for profit
✓ How to decide which platform is best for your client
✓ A smooth client process
✓ How to confidently charge $$$$$
Themes are essential to Shopify and one theme does not fit every project. There are so many amazing themes on offer with powerful features that would take too long to code from scratch. But how do you choose from 80 in the theme store? Follow our Theme Selecting System and discover how to select the best theme for your project.
Skills you'll learn...
✓ Shopify backend structure
✓ Our Theme Selecting System
✓ OS 1.0 vs OS 2.0
Learn how to maximise sales for your client with UX design fundamentals. We'll cover the techniques and methodology behind every design decision and Shopify page to reduce revision rounds and help your client see you as an expert.
Skills you'll learn...
✓ UX e-commerce fundamentals
✓ How to increase your client's sales with good design
✓ Using mock-up programs
⭐ Design a website with Chloe
⭐ Design your own portfolio piece
Now we get to the build! We'll take you through a full Shopify build, sharing our our tips and tricks for getting the site completed, handed over and launched as effortlessly as possible.
Skills you'll learn...
✓ Building a Shopify store from start to finish
✓ Our tips and tricks for building effortlessly
✓ How to launch without missing anything
⭐ Build along with us for your portfolio
05
CUSTOMIZING THEMES WITH CODE
Learn the fundamentals of HTML, CSS and Liquid (Shopify's coding language). Familiarize yourself with Shopify's theme code so you can confidently hop in and make any edits you want!
Skills you'll learn...
✓ HTML & CSS
✓ Liquid fundamentals
✓ Shopify theme code structure
✓ How to understand any theme's code
06
CUSTOMIZATION CODE LIBRARY
A library of tutorials on how to make Shopify code customizations to expand the theme's possibilities and bring your designs to life.
Skills you'll learn...
✓ Add liquid & schema to create any section customization you want
✓ Easily add fun decorations to your sections
✓ Master product metafields
⭐ Code along to practice & build confidence
07
GET CREATIVE ON SHOPIFY
Build a semi-custom website. Use the skills you learned in the customization library to develop a website from a given design. Try it yourself, but if you get stuck, you can follow along with Hana as she builds the site.
Skills you'll learn...
✓ Shopify build workflow
✓ Building future-proof sites for clients
✓ Working efficiently to maximize profit
⭐ Build a semi-custom store for your portfolio
08
CODING CUSTOM SECTIONS
Once you're confident in HTML, CSS and Liquid, you're ready to build custom Shopify sections so you can create any layout you desire.
Skills you'll learn...
✓ Planning & development of custom Shopify sections
⭐ Turn any regular code into a Shopify section with Liquid & JSON
How we do it
Two Experts
You'll be getting TWO experts, you have Chloe teaching the client process and design side of things, then Hana teaches the coding part.
Self Paced
You'll have all the modules from the start. We want you to have everything you need to be able to learn at your own pace.
Support
We'll be on hand in our exclusive Discord channel to ask us whenever you get stuck or need some advice. So you can learn HOW to do something, not just have someone do it for you.
Project Based Learning
The course is based around creating portfolio pieces you can actually use, to show clients you can do the job.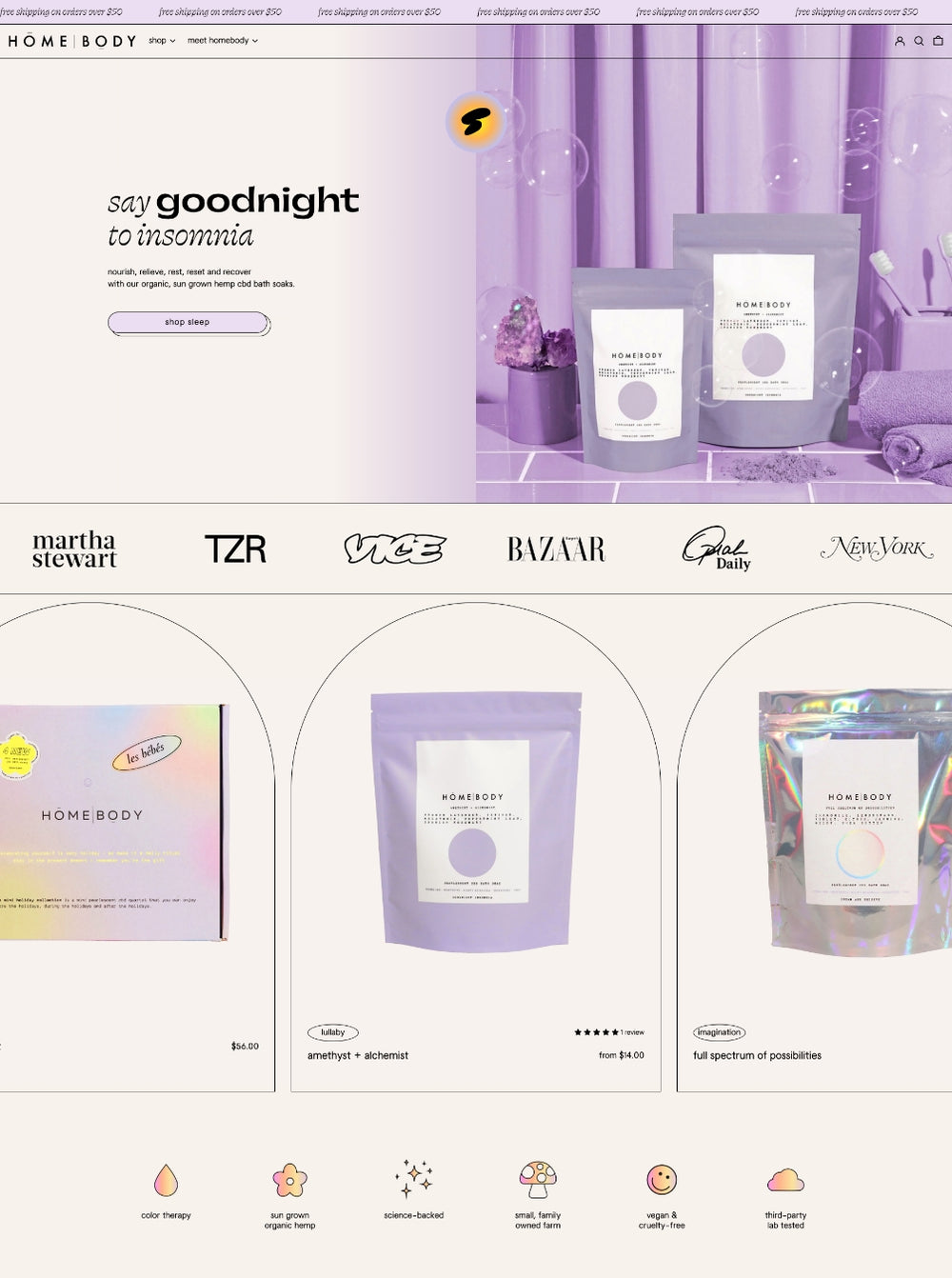 Chloe Ford x Hana Drdla
Design: Pim Preston Designs.
Development: Hana Drdla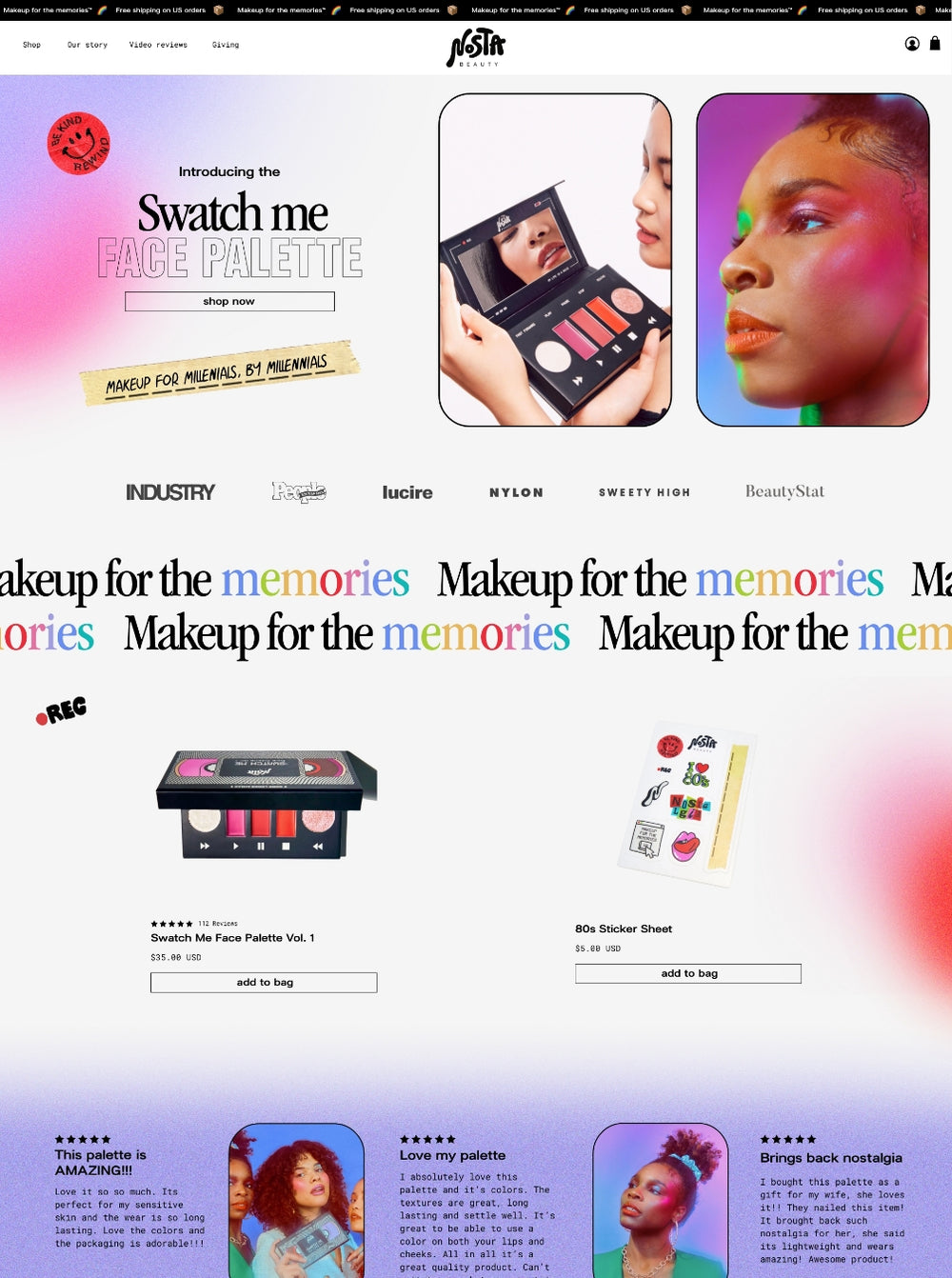 Chloe Ford x Hana Drdla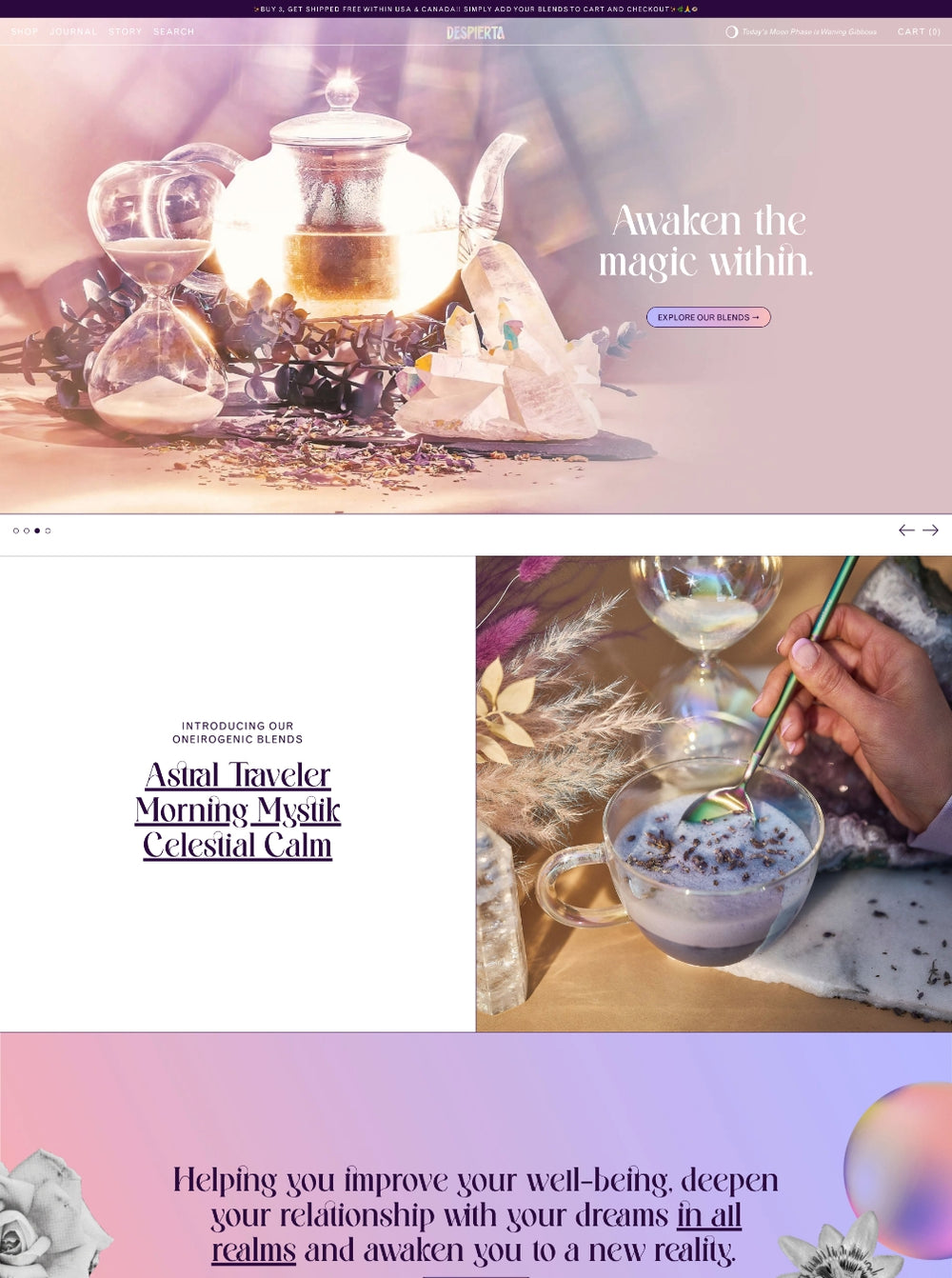 Design: Our Kind Studio.
Development: Hana Drdla
Chloe Ford x Hana Drdla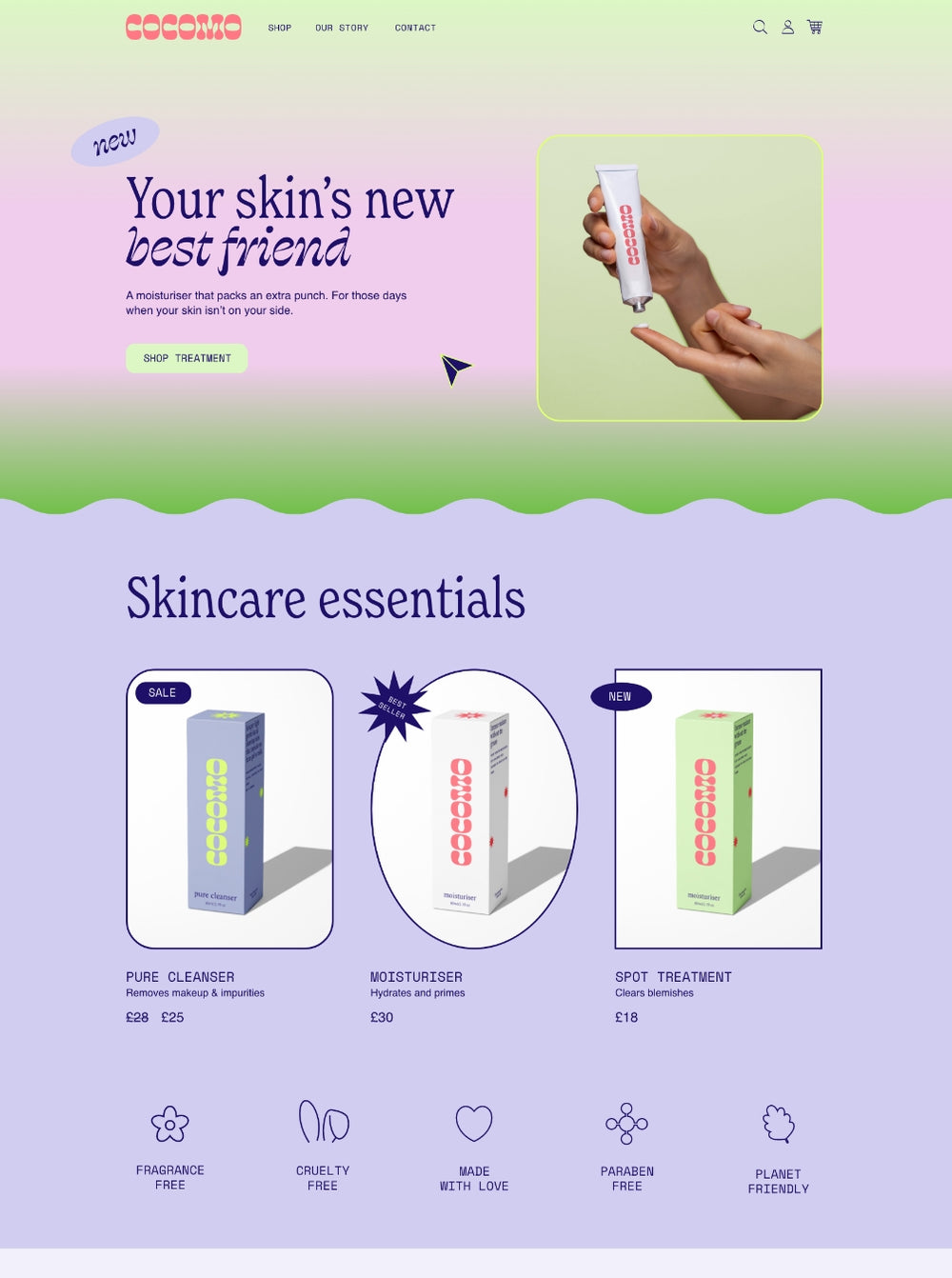 Course Portfolio Project
Create
Custom Stores
like these

2 Experts
are better than one
We've been through it all, and now are here to share our Shopify secrets, tips and tricks. So you can fast track your way to becoming an expert.

Chloe is a graphic designer with over 10 years experience. She's known for creating online worlds for bestselling beauty brands.

Hana specializes in Shopify development, bringing designers' visions to life with clean code that's easy for clients to edit.

Together, we created Luna Templates where we offer premium designed Shopify sections to help you build client websites faster, cheaper and charge more for them. Over 800 of you have trusted us with our section templates, and now we're showing you how to do it yourselves.
We'll teach you Adaptable Skills so you can build any design, on any Shopify theme
Fast track your way to
becoming a Shopify expert
Also Included
Our bestselling kit which includes checklists and client intake forms to help you build Shopify stores easily, quickly and efficiently.
BEFORE
You're currently...
always telling your client something isn't possible on Shopify
scared the client will ask for something you don't know how to do
not sure how to scope the project or quote properly and losing money because you're having to hire developers
seeing your branding designs being frankensteined on DIY websites
severely underestimated how long this project would take you
spending hours or days trying to fix one little thing and have no one to ask for help
don't have Shopify projects in your portfolio, so not sure where to get clients from
Shopify's code looks like another language to you and you're scared to break something
AFTER
You'll be able to...
find solutions for your clients and they trust you as an expert
feel confident you can please your client, jumping in the code and making edits to any theme
you price each project to be profitable and stress-free
able to see projects from start to completion
finishing projects quickly and charging enough to avoid overwhelm
hop in the Discord group and ask for help from peers and the instructors
have Shopify portfolio pieces on your website that show you're an expert
know exactly where to go in the code and how to make the change you want
Got Questions?
If your question isn't listed, or you'd just like to chat about if the course is right for you, send us an email: hello@lunatemplates.co or a DM on IG @lunatemplates
This course is for brand designers and web designers who want to bring their designs to life on Shopify and have a stellar client experience. It was created for designers specifically which means we focus on teaching you the Shopify skills you actually want and need.

No coding knowledge is required as we will go through the fundamentals of HTML, CSS, and Liquid (Shopify's coding language). However, coming into the course with some CSS knowledge will allow you to achieve the results you want faster. The focus is mainly on Shopify theme code and how to easily customize it.

Once you know HTML and CSS, learning Liquid is pretty straightforward. It's written in more plain English than other coding languages which makes it more intuitive. Once you learn some of it, you'll be able to edit themes without limits. We'll teach you how to edit existing sections, create your own sections and so much more! Don't be intimidated, we'll be right there with you.

We recommend dedicating at least 5 hours weekly to the course for 3 months. How long it will take you depends on your current knowledge. Learning something for the first time, especially code, takes a long time at the beginning but with practice, you'll be working 20x faster than the first time you did it. You can see a suggested timeline for the course here.

Modules 1-4 will prepare you to have a client discovery class, scope a project, design for Shopify and build no-code stores. You'll have 2 portfolio pieces at this point and be ready to confidently take on Shopify clients.

We recommend completing the first half of the course over 5-6 weeks so you can start offering your new service as soon as possible.

Modules 5-8 will allow you to advance your coding skills to customize themes with code. After this, you'll be prepared to ditch the cookie-cutter templates and offer semi-custom solutions to your clients.

The course is self paced, so it's up to you how quickly you complete it.

Pricing is very subjective and depends on a huge variety of factors (project scope, expertise, client process, industry, demand, location, etc.). However, a designer offering Shopify design and custom build can begin their project pricing at $10,000 USD. We'll teach you the skills you need to get there, and how to feel confident charging those amounts.

No, they don't. Our course focuses on giving you the skills to run a successful web design business offering Shopify as a service. But we do teach you the skills to build your own sections if you want to! In the course, you'll build two custom sections that you can use in any store.

Each of our sections in the Luna store take hours upon hours of design, testing, and iterations before we offer them for sale. They are created to save you time and money in your client projects, even as a skilled designer or developer.
Our course has two experts - one for design and the client process, the other for development. This means you get expert knowledge from both specialisms, no other course covers each area so in depth. Our course is suitable for both beginners and designers who want to level-up on Shopify, teaching them to do this on any theme in the Shopify theme store. You'll come out of this course with 3+ portfolio pieces so that you're able to show the Shopify expert you are before even having your first Shopify client.

To us, a custom store means starting with a Shopify theme as a base for the layout and functionality, and using code to enhance that design and create flexibility to meet the unique needs of a brand! Starting with an existing theme gives us the skeleton to work with and customizing with code gives us design freedom.

No, we do not. Themes are powerful and a LOT of work goes into them. One theme does NOT fit every project and it's unnecessary to learn how to build themes from scratch because there are so many amazing ones on offer with powerful features that would take too long to code. We teach you how to select the best theme for your project and edit it to what you want so it looks totally custom built.

We will be demonstrating our design process on Adobe XD which requires a paid subscription, however, you may use the free version of Figma to follow along the course. Everything else will be done right on Shopify although we will tell you some of our favorite free tools to use.

No! All lessons will be taught with Dawn, Shopify's free theme, but you'll learn the skills to customize any premium theme.

No. We'll show you how to create a Shopify Partner account that allows you to create unlimited development stores to practice and build portfolio pieces on.

All course members will have 30% off the unlimited license for all custom Shopify templates at lunatemplates.co for one year. You'll receive a discount code that can be applied at checkout.
Fast track your way to
becoming a Shopify expert
Unlimited Access to:
✨ All 8 modules of the course curriculum
✨ Client process and email templates
✨ Code Customization library & code snippets
✨ Our bestselling Shopify Store Launch Kit
✨ Briefs for portfolio pieces

12 months Access to:
✨ Support on our private Discord community
✨ 30% off Luna sections (for our unlimited license)
✨ Course curriculum and resource updates